13th DG Rangers Sindh Squash Championship 2019 from 20th Dec
The 13th DG Rangers Sindh Squash Championship which is a category 10 event of Professional Squash Association (PSA) is slated to take place at Rangers Jahangir Khan Squash Complex Karachi from Dec 20 to 24.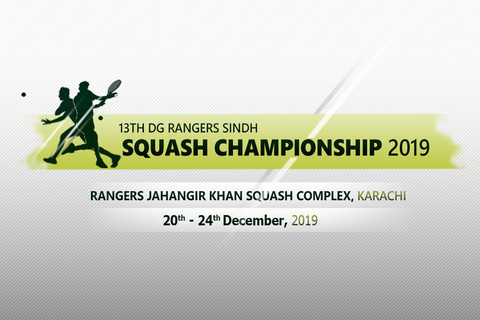 13th DG Rangers Sindh Squash Championship 2019
Rangers Jahangir Khan Squash Complex, Karachi
This year's event has been named after father of the nation Mohammad Ali Jinnah as 'Shukria Jinnah Pakistan' aimed at paying respect to the great leader for creating the country, Col Tahir Ayaz, Commandant Sachal Rangers announced.

He said it's an honour for Rangers to organise the squash event for 13th consecutive year and play its role in the uplift of healthy activities in the country in general and city in particular.
'The Shukria Jinnah Pakistan that envisaged a number of activities for the youth will culminate with a walk across the city and an award presentation ceremony at Quaid's mausoleum on Dec 25 coinciding with the birth anniversary of father of the nation,' he added.
According to draws, world No 61 Tayyab Aslam has been top seeded. He is followed by world No 77 Asim Khan.
The event carries US $ 12,000 prize money for men.
Giving technical details, secretary Sindh Squash Association (SSA) Rashid Ahmed, said the men's competition is category 10 event of PSA. There will be no qualifiers for men's this time and 24 PSA ranked players will vie for honours.
The national level women's event will have a draw of 32 participants.