All-Pakistani showdown for Serena-Huawei Pakistan International Squash C'ship 2019 final
Tayyab Aslam and Farhan Mehboob moved to the final of the Serena Hotel-Huawei Pakistan International Squash Championship after overcoming top seeded Egyptian counterparts at Mushaf Squash Complex, Islamabad.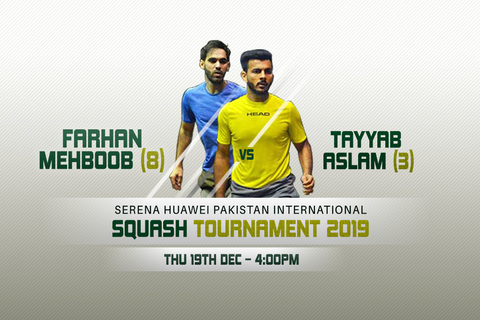 Serena Huawei Pakistan International Squash Tournament 2019
Mushaf Squash Complex, Islamabad.
Spirited Farhan Mehboob and Tayyab Aslam recorded triumphs in the $20,000 Serena Hotels-Huawei Pakistan International Squash Tournament 2019 semifinals by ousting top seed Youssef Ibrahim and second seed Muhammad ELSherbini of Egypt respectively. It is the first time after 2016 that both contestants of the final in this PSA event are Pakistanis.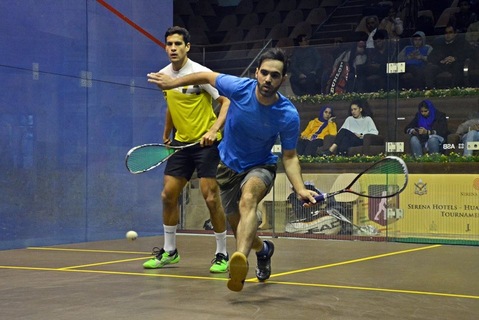 In the first semifinal of the day, Farhan entered the court with new self-belief and enjoyed an overwhelming crowd support. It was long overdue from Mehboob to give such kind of performance, which used to be his trademark.
Eighth seeded Farhan displayed top quality squash in the opening two games, giving hard time to the top seed, but Youssef was up to the task as he managed to control his nerves and took the first game 11-8.
The second game between the two was also played on a high note. Both the players were involved in long rallies and kept each other on the run to all corners of the court. The two were level at 13-13 in a close game, which could have gone either way. Youssef managed to hold his nerves to win the second game 16-14 and took 2-0 lead.
Farhan rose to the occasion in the third game and played exceptional squash despite the 2 games deficit. Playing like a true champion, Farhan used all his experience to stun his opponent by comprehensively winning the third game by 11-2.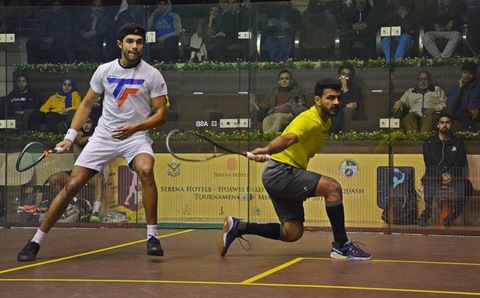 Farhan continued his aggressive play as he equalized the match at 2-2 by comfortably winning the fourth game also at 11-5.
The fifth and decisive game was arguably the best of the tournament so far, as both the players were fighting for each and every point in a see-saw battle between two champions. With a 2 points lead at 7-5, the Egyptian made host of unforced error and gave away the initiative to Farhan who cash in on Yousef's lack of concentration and reached game point at 7-10. Former Pakistan # 1 however could not finish it off and gave away easy points to lock the game at 10 points all. Farhan regained his focus and used his experience to earn the crucial next point and ultimately booking his place in the final with 12-10 win.
In the second semifinal of the day, 3rd seeded Tayyab Aslam showed glimpses of his brilliance as he outlasted second seeded Muhammad ElSherbini of Egypt by 3-1 with the final score line of 11-6, 9-11, 11-9, 11-9.

Tomorrow, Farhan will meet Tayyab in the final which will start at 4:00 p.m.
Watch Highlights of Serena Hotel-Huawei Pakistan International Squash Championship 2019 Semifinals below: