Muhammad Faheem earns Azadi Tenpin Bowling Championship 2019 title
Muhammad Faheem lifted the Amateur title of the 2019 Kashmir Solidarity Azadi Tenpin Bowling Championship 2019 that successfully wound up at Leisure City Club, Rawalpindi.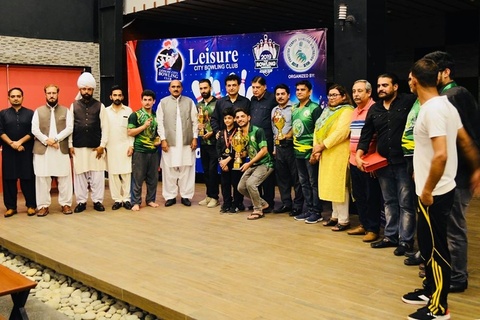 Pakistan Tenpin Bowling Federation organized Azadi Cup Tenpin Bowling Championship into the current year which concluded with a title win of Muhammad Faheem in Amateur category.
Although Faheem and others grabbed top positions, yet it was eight-year-old, Ayzaz Ur Rehman, who got the limelight as he managed to book a place in the final round against all the odds where a total of 30 players were at competition. Each player was awarded two games in the final round, which started with five players in action. Ayzaz tried his luck at lane number 4, while other senior players were occupying other lanes.
After playing first six attempts poorly, Ayzaz ended the first game at rock bottom of the points table. In the second game, Imran Mani and Shahrukh were enjoying massive lead over their nearest rivals, as it was looking like two-way battle between them. Faheem was occupying third place, while Ali and Ayzaz were already out of the title race.
After seven attempts, Faheem was dominating and enjoying seven pins lead over his closest rival Imran. Faheem continued with his heroics and left his opponents far behind to enjoy comfortable lead. He could even afford to miss the last two attempts, but he, in the last attempt, scored a smash to clinch the title.
He finished on top with 329 pins, Imran secured second place with 306 pins, Shahrukh grabbed third place with 288 pins, Ali got fourth place with 281 pins and Ayzaz took fifth place with 200 pins.
The prize distribution ceremony of the championship will be held today in which cash prizes of more than Rs 500,000, trophies, shields and certificates will be distributed among the top players.