Pakistan thrash India to win Gold in 20th Asia & Middle East Bridge Championship
Pakistan's Women Bridge Team clinched the title of the 2019 Asia & Middle East Bridge Championship which successfully concluded yesterday at Bristol Hotel in Amman, Jordan.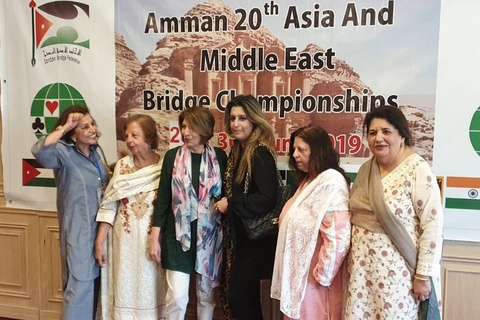 Pakistan stands the title winner of the 20th edition of Asia and Middle East Bridge Championships which concluded successfully yesterday at Bristol Hotel in Amman, Jordan.
Jordan Bridge Federation (JBF) won an overwhelming vote to host the 20th BFAME Championships-2019 for the 5th time since its inaugural one in 1995.
This mega international event featured a total of ten (10) nations, players from whom, were seen competing with all their talent and skills so as to earn the ultimate title of this championship but Pakistan came out to be the strongest to stand at the top spot taking home this huge victory.
Participating nations were: Jordan, Pakistan, India, Saudi Arabia, Kuwait, Sri Lanka, United Arab Emirates, Palestine, Syria and Bangladesh.
The Pakistan Women Bridge Team won Gold Medal of Asia and Middle East Bridge Championship (BFAME) 2019 as the Pakistan verses India final encounter was dominated by Pakistani team in which they outclassed India to the extent that the Indian team decided not to contest the final segment due to Pakistan's extra ordinary lead.
With this win the Pakistani Women Bridge Team has booked a spot in the Women's World Championship 2019 (Venice Cup), which will commence in September 2019 in Wuhan, China.
Pakistan lady team that etched their name, not just on the title, but also bagged US$ 110/- worth of cash prize for the whole team, consisted of: Rubina Agha, Najm Abid, Shahnaz Pirzada, Qudsia Dossa, Rubina Hai and Fatima.
Teams from Pakistan also took part in the Mixed Team, Open Team and Seniors events in which they clinched bronze medals.