Pakistan ends 7th AHF Men's Asian Handball Championship at 6th spot
Pakistan finished at sixth position in the 12-team 7th Asian Men's Beach Handball Championship as the team fell to Thailand in their fifth place match at Weihai, China.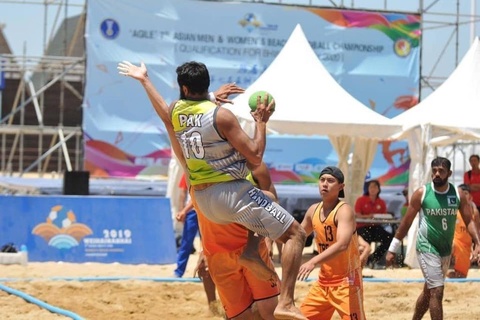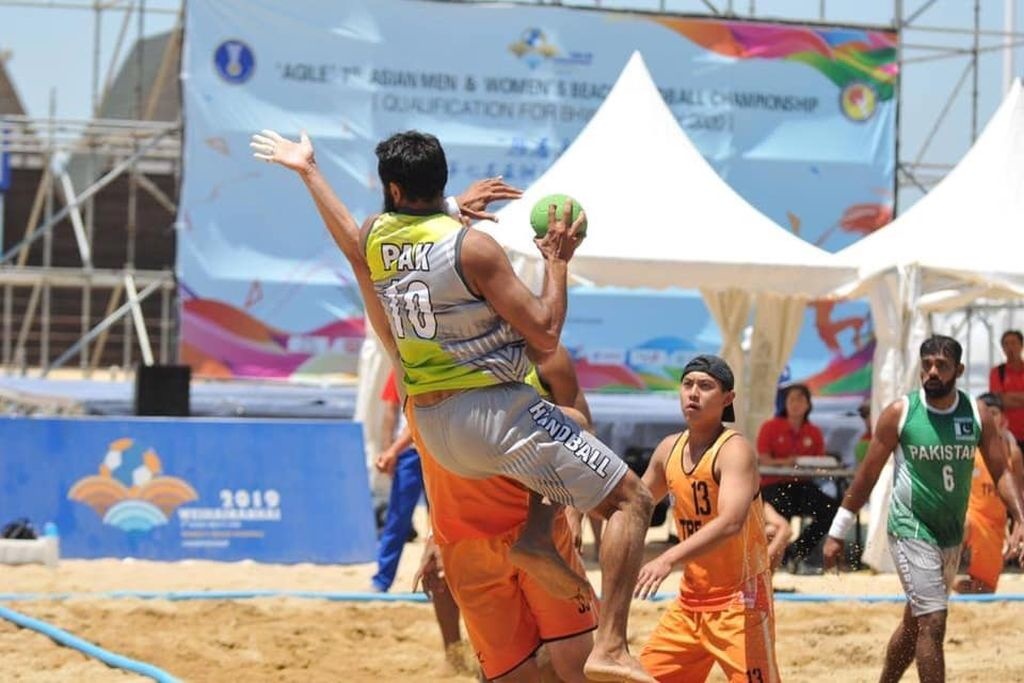 7th AHF Men's Asian Beach Handball Championship
Weihai, China.
The 2019 edition of these continental championships is being held in the eastern port city of Weihai in China in which competitions are being held in both men and women categories. The women's competition is seeing six teams in one group competing for glory, which include: China (CHN), Thailand (THA), Vietnam (VIE), Chinese Taipei (TPE), Hong Kong (HKG) and Japan (JPN).
While the men's competition is split into two preliminary groups of six teams each which are stated below:
Group A
features: Qatar (QAT), Vietnam (VIE), Chinese Taipei (TPE), Afghanistan (AFG), Indonesia (INA) and Philippines (PHI).
Group B
comprises: Oman (OMA), Iran (IRI), Thailand (THA), Pakistan (PAK), Japan (JPN) and Saudi Arabia (KSA).
As Pakistan team performance fell, they had the chance to compete with Thailand for the 5th position in the championship but the 2007's edition, Pakistan went down to their opponents by 1-2 in a crucial encounter and finished sixth in this 12-team championship.
It was a tough clash as Pakistani boys were good from the start taking the lead of the first set on 22-14 but in the second session Thailand's players took the win on a close call of 24-22 making it a 1-1 score.
In penalty shootout, Thailand dominated and easily win the game by 8-4 to finish at the 5th place. The score was 14-22, 24-22 (8-4) in favor of Thailand.
Pakistan started this championship with the loss of their first match when they went 1-2 down to Thailand in their Group B outing on 15th June but then in their second league outing, the next day, Pakistan defeated Saudi Arabia 2-0.
Pakistan against fell to the last edition runners-up, Oman as the team completely overpowered Pakistan by 2-0. Then again Pakistan lost to Iran on 2-0.
But stunningly, Pakistan outscored Japan by 2-0 with the scores being 23-13, 28-24 and also defeated Chinese Taipei with the final scores of 15-14, 19-15.
These championships serve as a qualifier for both the 2019 ANOC World Beach Games in San Diego, USA, and the 2020 IHF Men's and Women's Beach Handball Championships to be held in Italy.
Meanwhile, defending champions, Qatar and Oman qualified for the final which will be held today.
The Pakistani Squad members are as under:
1. Mohammad Shahid Pervaiz,
2. Hazrat Hussain,
3. Asif Ali,
4. Asim Saeed,
5. Imran Khan,
6. Mohammad Uzair Atif (Captain),
7. Muaaz Ali ,
8. Muzammal Hussain,
9. Tahir Ali.