Faisalabad to host National Beach Handball Club League 2019
Six leading handball clubs of the country re to participate in this four-day championship which slated to be held from 29th April and will continue till 2nd May at International Sand Court of University of Agriculture in Faisalabad.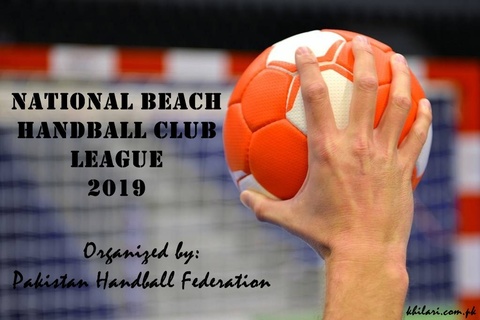 Pakistan Handball Federation is going to organize yet another mega handball event, which has been named as "National Beach Handball Club League" into the current year. This championship will feature a total of about six (6) teams belonging to the leading six clubs of the nation.
Players from their respective teams will be seen competing with all their power so as to earn the ultimate title of the league . Sohaib Handball Club of Faisalabad is the defending champion. The National Handball team of Afghanistan will also participate in this event.
Whereas before the commencement of this event, National Beach Handball Championship 2019 will be held which is going to begin from 26th to 28th April. Afghanistan's National Team is to take part in this event as well.
The 10th National Handball Championship will feature a total of about nine (9) teams belonging to different departments and divisions of the country which includes, Army, Navy, Pakistan Air Force (PAF), Higher Education Commission (HEC), Water And Power Development Authority (WAPDA), Police, Railways, Balochistan, Khyber Pakhtunkhwa (KP), Islamabad, Sindh and Punjab.
The end of this championship will also decide on the Pakistani team that will participate in the 7th Asian Beach Handball Championship in China, which are slated to be helf from 15 to 22 June, which is also a qualification round for this year's World Beach Games and the World Beach Handball Championship next year.