Pakistan Sepaktakraw Team to make their debut at the 18th Asian Games
Pakistan Sepaktakraw Team will be making their first appearance at the Asian Games in the upcoming edition which are set to be held from 18th Aug. to 2nd Sep. in Jakarta and Palembang, Indonesia.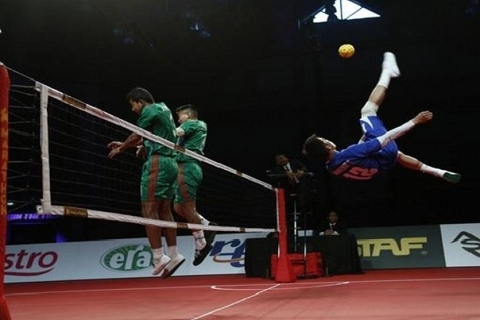 A popular sport in Southeast Asian countries, Sepaktakraw was included in the 1990 Beijing Asian Games and has been a regular feature ever since. The last Asian Games held in South Korea, in 2014 saw a total of 210 athletes from 13 nations compete in Sepaktakraw. The sport blends volleyball and football with martial arts and gymnastics. It requires fast reflexes, precision control and the agility of an acrobat.
Pakistan, for the first time will take part in the Sepaktakraw event at the Asian Games in only the men's competition. The team will be comprised of six players. A total of 6 medals will be contested within the Asian countries. Pakistan and 14 other nations will be competing for gold at the event which are:
China
India
Indonesia
Iran
Japan
Laos
Malaysia
Myanmar
Nepal
Philippines

Singapore
South Korea
Thailand
Vietnam
The Pakistan Sepaktakraw 8 member squad includes:
Shabbir Ahmed (Captain)
Hameed Shahid
Hussain Ahmed Khan
Sarfaraz Ahmed
Sheraz Asif
Abdul Basit
Mohammad Arif Hafeez (Coach)
Arif Waheed Khan (Manager)
As Pakistan Sepaktakraw Federation is neither affiliated with the Pakistan Sports Board (PSB) nor the Pakistan Olympic Association (POA), the squad's participation at the Asian Games 2018 is self-financed. Team Coach Muhammad Arif Hafeez and the President of the Sindh Sepaktakraw Association (SSTA) said he is trying to get help from the PSB but so far there has not been much to add. Pakistan last featured in the World Championships in Bangkok in December last year.
Arif Waheed, the coach of the Pakistan Sepaktakraw Team said, "We have the talent and hopefully the boys will live up to the expectations in Indonesia," Arif said.
The team will depart for Indonesia on 23rd August.