Pakistan Handball squad for Asian Games 2018 announced
16 member squad has been finalized by Pakistan Handball Federation for the 18th Asian Games starting from 18th Aug. to 2nd Sep.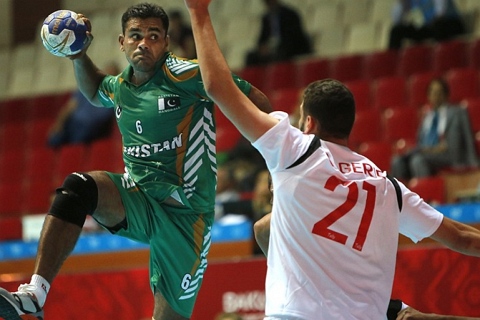 Pakistan Handball Federation has cleared the participation of 16 member squad for the Jakarta-Palembang Asian Games 2018. Pakistan is placed in Group B along with South Korea and Japan.
The squad is comprised of 16 players who will be accompanied by 3 officials. Following are the team members:
Asif Ali
Tahir Ali
Muhammad Mubeen Ashraf
Muhammad Uzair Atif
Muhammad Shahid Bashir
Asif Hayat
Hazrat Hussain
Muzamal Hussain
Nasir Hussain
Imran Khan
Muhammad Nawaz
Muhammad Shahid Pervaiz
Asim Saeed

Khurram Shahzad

Naseemullah
Muhammad Zubair

Salam Ghani (Manager)
Azhar Ismail (Associate Manager)
Muhammad Shoaib (Coach)
Pakistan Handball team will play against Asia's most competitive teams, South Korea and Japan. First and second match will be played on 13th and 15th August respectively.