Indo-Pak Teams seals Balijee International Bridge Title
Indo Pak team obtained 160.61 per cent points to claim the first slot in the Balijee International Bridge championship at Lahore Gymkhana Club.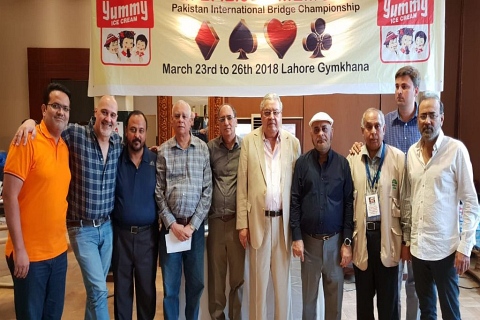 Teams from India, Dubai and Kuwait and the elite ones of Pakistan from Karachi, Islamabad, Rawalpindi and other cities participated in the grand event. The Indo-Pak squad of four players won the team event of the 16th Balijee International Bridge Championship here at Lahore Gymkhana.
The Indo-Pak team comprising Gulzar Ahmed Bilal, Farrukh Liaquat, Subash Gupta and Sapan Desai obtained 160.61% points to secure the first position followed by runners-up Tehsin with 134.67 per cent points and the team consisting of Tehsin Gheewala, Rashidul Ghazi, Muhammad Hashmat, Imran Abedi and Fatima Raza.
Izzo IV secured the third spot having team members Jahangir Ahmed, Farooq Alvi, Mudessar Rahim, Qasim Rahim and Abida Ali with 111.55% points.
Air Marshal Syed Shahid Zulfiqar Ali distributed the prizes among the winners along convener card room Khawaja Imran Zubair and Lahore Gymkhana chairman Kamran Lashari.