Pakistan beat Korea in Asian Squash Team Championship
Pakistan downs minnows Korea, wins narrowly by 3-0 before the hosts pushed the matches to limits in the Asian Squash Team Championship Cheongju International Squash Stadium, Korea.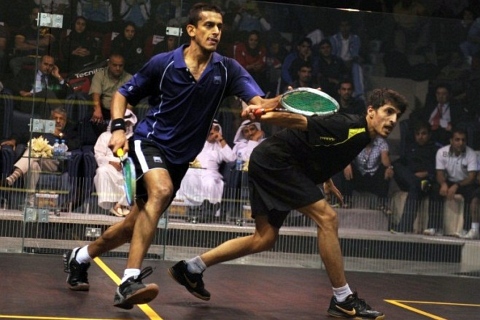 Farhan Zaman outclassed Yoo Jae Jin 3-2 while Tayyab Aslam downs Ko Young Jo 3-2 and Mohammad Asim defeated Lee Se Hyun 3-1.
Farhan Zaman played against Korean Yoo Ja Jin and won in the intense battle by 16-18, 11-4, 9-11, 11-9, 11-8. Yoo gave Zaman tough time and to win and only lost by lack of experience as he downs Pakistani opponent in the first game by 18-16. Zaman won the second game to level the match 1-1 but Yoo Ja defeated Pakistani veteran players in the third game by 11-9 to take lead once again by 2-1.
Farhan Zaman kept his cool and won the fourth game by 11-9 and then overpowered Joo with his experience by 11-8 in the 5th and final game to win the match.
Story was same in the second match when Tayyab Aslam came out against Korean Ko Young Jo in the court. Although Tayyab won the match but it took him 5 sets to defeat his Korean opponent by 9-11, 4-11, 11-7, 12-10, 12-10. Tayyab was completely down and out as Young was coming aggressively to him as he was two games down by 9-11 and 4-11 but Tayyab backed himself and staged one of the strongest comebacks as he defeated Young in next three games by 11-7, 12-10 and 12-10 to register victory.
In the third match Mohammad Asim Khan however defeated his opponent Lee Se Hyun easily by 3-1. Asim win the first game 11-6 but lost the second by 11-7. He then registered a comeback and won the third and fourth game by 11-8 and 11-9 respectively to complete the 3-0 victory for Pakistan.