Nadir Magsi wins Cholistan Desert Jeep Rally
Defending champion Nadir Magsi won the 13th Cholistan desert jeep rally for the second successive year.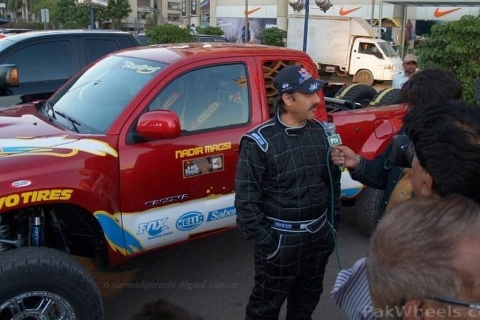 Reigning Champion Nadir Magsi won the prepared category of 13th Desert Jeep Rally for the second consecutive year as he completed the track in 4 hours 32 minutes and 9 seconds followed by Sahibzada Suktan who completed the track in 4 hours 37 and 36 seconds while Jaffar Magsi ended on third position as he completed the track in 4 hours 39 minutes and 21 seconds.

Tushna Patel wife of famed Roni Patel secured the first position in female stock category as she completed the distance on 90 kilometers in 2 hours 41 minutes followed by Lahore's Asma who grabbed the second spot and Momal Khan from Multan earned the third place.

In Stock category A, Maqsood Alam grabbed the first position while in B category Muhammad Zaheer Maghsi earned the first place, Syed Mubeen wins the C category and Adeeb Khan emerged victorious in D category.
13th edition of Desert Jeep Rally started from February 15 and ended on February 18. After the jeep rally, a musical night was also arranged by Punjab government in the honor of racers and for all the people came to witness the jeep rally.

Provincial Minister Information and Culture Mujtaba Shujjaur Rehman while talking to media said that the Punjab government has diverted the face of development projects towards Southern Punjab and revolutionary steps are being taken for the development and prosperity of Cholistan's desert area.