Islamabad to host first International Futsal cup
First international futsal cup to be played at Liaquat Gymnasium, Sports Complex Islamabad from 16th to 18th February 2018.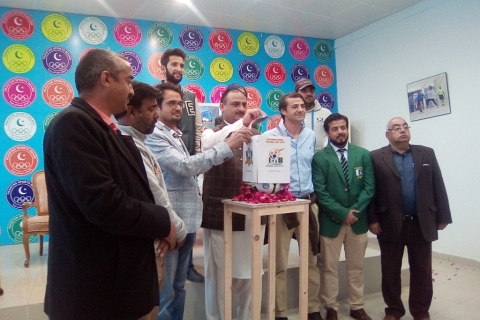 1st International Futsal Cup 2018
Liaquat Gymnasium, Sports Complex Islamabad
Malik Meherban Ali, Chairman Pakistan Soccer Futsal Federation (PSFF) while addressing a press conference has said that Pakistan is hosting first ever futsal cup where four international and two Pakistani teams will be playing to earn the top honor.

He said two Pakistani teams, Pakistan Greens and Pakistan Whites will be competing in the three day long tournament along with international side of Brazil, Afghanistan, Nepal and Turkey.

Teams will be divided into two groups while the semifinals of the tournament will be held on Saturday, February 17 and Final of the event will be played on Sunday 18th February. Teams will arrive Pakistan on Thursday 15th February. He happily announced that Brazil team will visit Pakistan for the very first time in the sports history of Pakistan. "Futsal is very popular in the world, but it is taking roots in Pakistan gradually," he added.

He further said that it is a 5a side match as every team will be playing with four strikers and a keeper while the game has unlimited substitutions during the match. Malik Meherban Ali said it is a technical game and players required more stamina then the football as only four players are playing in the field.

We will be holding trails for the team selection and we will also send the new talent abroad for further trainings as we are also ensuring Pakistan's presence in Futsal World cup. Malik Meharban added that Australian coach Dagostino Vincenzo will be holding open trials in Pakistan Sports complex Islamabad and for that, players can register themselves for the open trials online through http://psff.com.pk/web/register.php.

He also announced the arrival of President South Asian Futsal federation, Bhim sen Varma and Technical Director Association Medial de Futsal Alex Astorgas Suarez to Pakistan for the event. CEO AMF Juan Rolando Alarcon Rios will be the guest of honor of the opening ceremony, he concluded.