1st International Futsal Cup 2018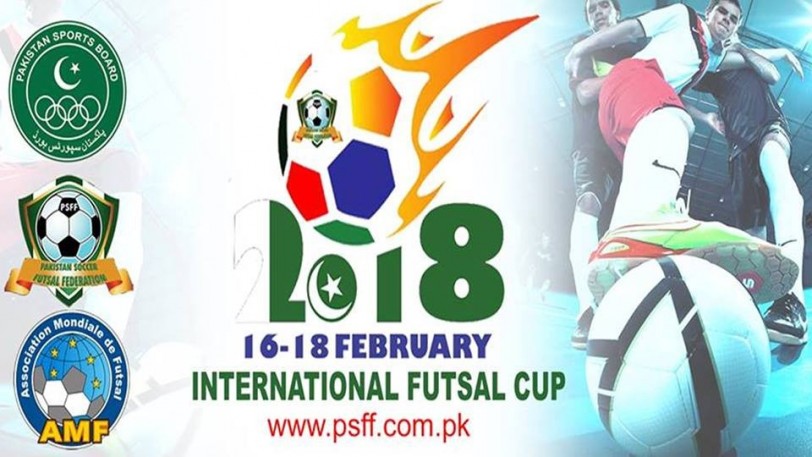 First International Futsal Cup to be played at Liaquat Gymnasium, Sports Complex Islamabad from 16th to 18th February 2018.
Pakistan Soccer Futsal Federation has planned to organize a MEGA SPORTS EVENT for the very first time in the history of Pakistan where people can witness International Futsal cup 2018 from Friday 16th to Sunday 18th February 2018 at Pakistan Sports Complex Islamabad.
6 teams will be participating in the event are:

Brazil
Nepal
Turkey
Afghanistan
Pakistan Whites
Pakistan Greens

Teams will be divided into two groups. Semifinals are scheduled to play on Saturday 17th February while Final will be played on Sunday 18th February 2018.
Chairman Pakistan Soccer Futsal Federation Malik Meharban Ali said Brazil international futsal team is arriving for the first time in Pakistan's sports history while President South Asian Futsal federation, Bhim sen Varma and Technical Director Association Medial de Futsal Alex Astorgas Suarez are also arriving Pakistan for the event. CEO AMF Juan Rolando Alarcon Rios will be the guest of honor of the opening ceremony.
Malik Meharban added that Australian coach Dagostino Vincenzo will be holding open trials in Pakistan Sports complex Islamabad and for that, players can register themselves for the open trials online on http://psff.com.pk/web/register.php.
Total 30 players are selected that will represent Pakistan in 1st International Futsal Cup 2018.
| | | | |
| --- | --- | --- | --- |
| Players | City | Players | City |
| Muhammad Haseeb Iqbal | ISB | Mazz Ullah Khan | ISB |
| Mujtaba Hussain | ISB | Gohar Ali Muzaffar | ISB |
| Mukarram Ali | Gojar | Ibrahim Khan | ISB |
| Masood Ahmad Khan | ISB | Azmat Ali | RWP |
| Shayan Muhammad Shah | RWP | Ilyas Khawaja | ISB |
| Muhammad Vali Khan | RWP | Zarrar Ali Dar | RWP |
| Syed Ali Ammar | ISB | Mubasher Rafiq Sanjrani | ISB |
| Asfand Shahbaz Khan | Karachi | Arslan Asim | Blochistan |
| Rana Abbas Ahmad | ISB | M. Yasmeen Marwat | ISB |
| Muhammad Umer Saeed | ISB | Ateeb Shahid | Toba Tek Sing |
| Muhammad Usman | Gojra | Usman Ishfaq | Lahore |
| Abdul Sattar Khan | KPK | Ilham Jan Khan | Malakand |
| Adnan Sami | SGD | Muhammad Sahail | Bannu |
| Jasim Mehmood | ISB | Muneeb ur Rehman | ISB |
| Sadain Ali | ISB | Sumair Ahmad Qureshi | ISB |