PTF South Punjab Taekwondo Lovers Championship 2018 to begin from 11th August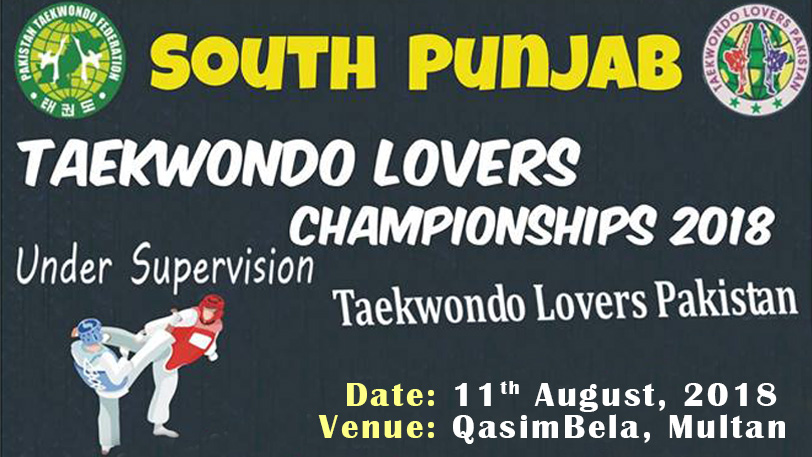 The one day event is organized by Taekwondo Lovers Pakistan under the guidance of Pakistan Taekwondo Federation.

According to the schedule issued by Taekwondo Lovers Pakistan, the weight categories for males and females are:
Males:
-22 Kg
-26 kg
-30 kg
-35 kg
-40 kg
-45 kg
-50 kg
-54 kg
-60 kg
-68 kg
For females:
-44 kg
-49 kg
-59 kg
Open
Entry fee for the participants is PKR 200. Gold, silver and bronze medals, certificates and Best Fighter trophy will be awarded respectively. Trophies for winners on 1st, 2nd and 3rd basis have also been announced by the TLP.
Organizing committee includes Waseem Khan Baloch, Faheem Ahmed, Irfan Chohan, Hassan Shah, Fatik Butt, Shahrukh Baig, Issac Gujjar, Ameen Awan, Zahid Khokhar, Haji Saleem, Nadeem Waseer, Junaid Ahmed, Rana Aas, Waseem Shah, Ghazanfar Abbas and Danish Munir.
All the fights will be played under the World Taekwondo Rules. Ghulam Shabir Adil and Muhammad Asif Ali Nadir will be the respectable chief guests while chief organizers are Malik Waseem Khor and Khair Ullah Khan.