31st Pakistan National Chess Championship 2018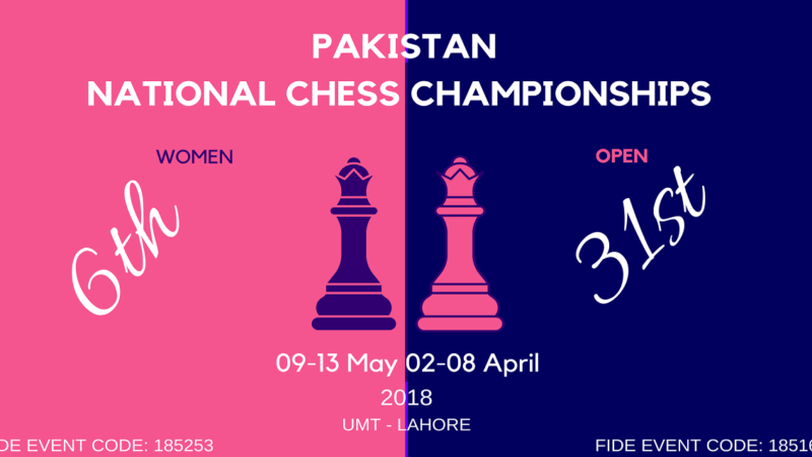 EventChess Federation of Pakistan in collaboration with Punjab Chess Association & University of Management & Technology Lahore, under the umbrella of World Chess Federation (FIDE) and Asian Chess Federation (ACF) organizing the 31st National Chess Championship at University of Management & Technology Lahore.
All the affiliated units and registered member players are invited to take part. Chess Federation of Pakistan will select 5 players from this event who will represent Pakistan in 43rd World Chess Olympiad to be held in Batumi, Georgia from 23rd September to 6th October, 2018. The Championship shall a Swiss league event with Eleven (11) rounds. Time control shall be 90 minutes with an increment of 30 seconds starting from move 1.
| | | | |
| --- | --- | --- | --- |
| Date | Time | Event | Result |
| 4th April 2018 | 10:00 AM | Round 01 | |
| 4th April 2018 | 4:00 PM | Round 02 | |
| 4th April 2018 | 10:00 AM | Round 03 | |
| 4th April 2018 | 4:00 PM | Round 04 | |
| 5th April 2018 | 10:00 AM | Round 05 | |
| 5th April 2018 | 4:00 PM | Round 06 | |
| 6th April 2018 | 10:00 AM | Round 07 | |
| 6th April 2018 | 4:00 PM | Round 08 | |
| 7th April 2018 | 10:00 AM | Round 09 | |
| 7th April 2018 | 4:00 PM | Round 10 | |
| 8th April 2018 | 10:00 AM | Round 11 | |