Navy emerges title winner of Match Race National Sailing Championship 2020
Talented Navy team comprised of Najeeb Ullah Khan (Helm), Raja Qasim Abbas, Khalid Hussain, Rahman Ullah and Tariq Ali claimed Gold medal by showing outstanding performance at Match Race National Sailing Championship 2020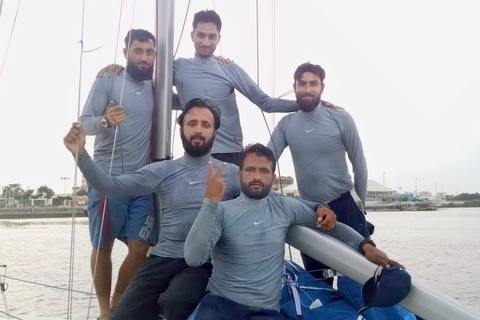 Pakistan Navy Sailing Club organized the Match Race National Sailing Championship 2020 in Karachi from 7 to 9 December 2020.
The races were conducted at Open Sea near Clifton beach in the J/80 Class Boat.
In the first round robin series a total of 15 races were conducted among 6 participating teams.
At the end of first phase, three top teams, including Army, Navy and PAF were shortlisted for the second and third Round Robin series of races to decide winners of Gold, Silver and Bronze medals.
At the end of all races, Navy team comprised of Najeeb Ullah Khan (Helm), Raja Qasim Abbas, Khalid Hussain, Rahman Ullah and Tariq Ali, won the Gold Medal by showing outstanding performance against the opponents.
Whereas Army's team lead by Muhammad Ayub secured second position and PAF team lead by Muhammad Sajjad Abbasi won the Bronnze medal.
For any query Secretary General Pakistan Sailing Federation Muhammad Akram Tariq can be contacted at 0321-5004604 or 0333-2454620.