Moin Khan Futsal Academy organizing Pakistan's biggest Futsal event
Moin Khan Futsal Academy is all set to organize Pakistan's biggest Futsal event the "Gatorade Futsal Championship 2020" in Karachi.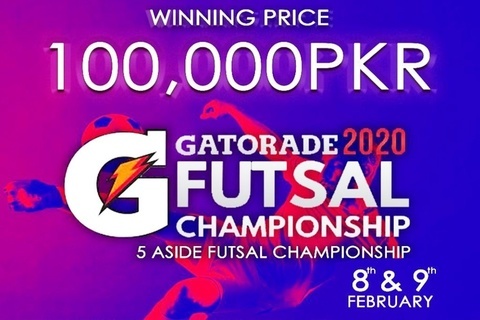 Moin Khan Futsal Academy is all set to hold Pakistan's biggest Futsal Championship by the name of "Gatorade Futsal Championship 2020" Karachi.
The tournament will be held on 8th and 9th February 2020 at Moin Khan Academy, DHA Sports Club and carries a mouth watering prize money of 100,000 PKR for the winning team.
Registration fee has been set at 8,000 rupees and 24 slots have been made available for willing teams. Payment has to be done at the following address before the February 3rd deadline:
1st floor, building no. 44-C, 11th Jami comm street, phase 7, DHA or through JazzCash on the number: 03237997555.
All the matches will be live-streamed on Facebook and YouTube and the winning team will be awarded trophies, medals, certificates, giveaways as well as the grand prize of 100,000 rupees.
The runner ups will receive 50,000 rupees in prize money as well as a glittering trophy, medals, certificates and giveaways.
Individual awards are also an attraction with Player of the Tournament set to bag 15,000 rupees and the best goal-keeper to be awarded 10,000 rupees.
Certificates and playing kits will be issued to all participants.
Participants must be 15 or older
Tournament format consists of Group Stages and Knockouts
Squads should consist of 8 players.
For further details contact :

Mr Basalat Ali - 03212291663 / 03237997555