Nipplabad FC emerges winner of Islamabad Futsal Series Season I
As many as 48 teams compete in the 2019 Islamabad Futsal Series which successfully wound up at Total Football Ground in Rawalpindi.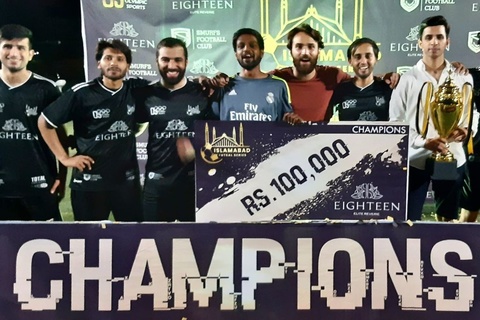 The much awaited Islamabad Futsal Series' Season I hosted a total of 48 teams that competed against each other with all their skills so as to earn the ultimate cash pursue of this event but among so many talented teams, it was Nipplabad FC whose players managed to itch their name as the champions of this tournament.
This tournament was amid for the futsal lovers of the twin cities: Rawalpindi and Islamabad but teams from all over the country showed their interest in the event, which was organized by Mr Moneeb Khan, Mr Faizan Sameer Malik and Mr Moiz Ghani.
As the sole title winner, Nipplabad FC was awarded with an attractive cash prize of Rupees 100, 000.
To this successful holding for such a huge event, one of the organizers Mr Faizan was of the view,
"I'm grateful to Allah, He has supported us so much to make this event a success because we had a total of 48 teams from all over the country and we wrapped up the tournament in just four days and awarded the winners with 1 Lac cash prize as well. We have provided the youth with a platform so that they can play futsal and not get involved in other negative activities."