48 teams line up to compete in Islamabad Futsal Series Season I
As many as 48 teams will be participating in the 2019 Islamabad Futsal Series which is all set to kick off from 26th September and will continue till 29th September at Total Football Ground in Rawalpindi.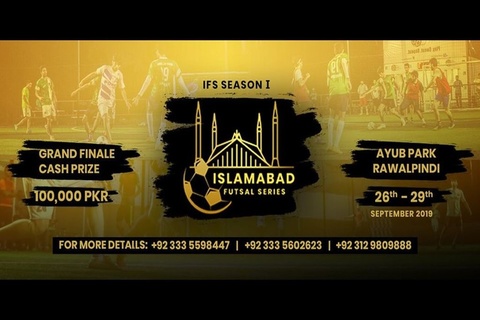 The much awaited Islamabad Futsal Series Season I is all set to host a total of 48 teams, who have lined up to compete in the tournament against each other so as to earn the ultimate cash pursue of this event.
This tournament is being organized for the futsal lovers of the twin cities: Rawalpindi and Islamabad but teams from all over the country are seen taking part in this event, which is hosted by Moneeb Khan, Faizan Sameer Malik and Moiz Ghani.
It is a five vs five tournament with rolling subs and knockout format which would be played under Standard Futsal Rules. Match timings will start from sharp 05:00 PM and on-wards. Each match will be played under strict supervision of management and the referee, whose decision will be final on the field.
This event is offering an attractive prize pursue of Rupees 1 Lac for the winning team while the runner up team will be awarded with 20,000 Rupees along with a glittering trophy. Whereas, other awards into the tournament include: MVP trophy, Best Keeper, Best Defender and Top Scorer.
HD Photography would be available for the matches and qualifying teams would be able to enjoy free Redbull drinks.
Entry fee has been set as Rupees 5,000 for each team which is to be paid at the time of registration before 20th September. For further queries and registrations purpose, this given cell phone number can be contacted: 03335598447.
1- B4 United (Lahore)
2- Abdul Fc (Karachi)
3- Blackhawks FC
4- Chaos Fc (Lahore)
5- DFC (Peshawar)
6- Paragon X (Lahore)
7- Midfield FC
8- Garrison FC
9- Gunners FC
10- Street Power FC
11- Viral FC (Lahore)
12- Rippers
13- Highlanders FC
14- USGC FC
15- Fenix FC
16- Falcon United (Karachi)
17- Wachan Fc (Peshawar)
18- Saints FC
19- Falcon FC
20- POPO DS
21- Bonebreakers FC
22- Grimjows FC (Lahore)
23- Troll FC
24- Reliance FC
25- Gladiators FC
26- Team Eighteen
27- QPR (Lahore)
28- USGC FC
29- Kaptaan G Ball hai Fc
30- Khokhar FC
31- Busby FC
32- Goalz FC (Peshawar)
33- Boom Boom Swabi Fc (Swabi)
34- Nipplabad FC
35- Majaak FC
36- KUFC
37- Chakwal Madrid FC (Chakwal)
38- Rampage FC (Lahore)
39- Swat Eleven FC (Swat)
40- Gladiators FA
41- Smurfs FC
42- Star Jungle Khel FC (Kohat)
43- DID FC (Karachi)
44- Boca FC Juniors
45- Boca FC
46- ICAW (Lahore)
47- Hammers FC
48- Strikers FC
49- FC Ravens
50- Titan FC
51- Prot FC
52- FC Redemption
53- 69ers FC (Lahore)
54- DC Shooterz